The majority of us believe that if you've got an Apple computer, you do not need any virus protection for Mac, right? However, as my experience shows, that is not true. Indeed, the myth that Mac computers do not require any malware protection has recently been busted. Today, every computer, including your Mac, can catch viruses, Trojans, spyware & adware. Hence, it is obvious that any computer, including Macs, should be checked, cleaned and updated on a regular basis. Moreover, according to Bitdefender's Senior E-Threat Analyst, Bogdan Botezatu, "Mac OS X software these days suffer from more high-risk vulnerabilities than all Windows versions put together." That is why a good Mac virus scan performed on a consistent basis is essential for your Mac. It should be added that typically, apart from finding Mac malware and viruses with ease, such apps help you keep your Apple computer at the most powerful state.
Do Macs Get Viruses? How to Deal With Them?
It was in Mac OS 10.6 (Snow Leopard) when Apple introduced Mac OS malware detection capabilities. Such system, called File Quarantine, verifies each program downloaded and it approves it only if it has been downloaded from a legit source. Apart from checking the source, File Quarantine provides security updates, which can check databases of known malware targeting the Mac OS.
Therefore, File Quarantine, or as it is also often called XProtect can do the following:
Remind you in a dialog window the program's exact source, asking you, therefore, if you're sure that you do want to open it.
Notify you that the app can't be opened because of your settings (when for instance, you come across a program without code signing certificate). If you are sure in the software you are going to download, you can ignore this message by control-clicking the program and then in the contextual menu you should hit Open)

Restrict you from opening such programs, which are already known as malware. In such a case, you will see a message, which will propose you to send this risky utility to Trash.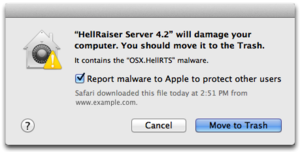 To tell you the truth, File Quarantine, or as it is also often called XProtect is the reason why the majority of Apple computers can remain virus and malware free. Still, bear in mind that to ensure that your Mac malware database is always up to date, check that your Apple computer automatically installs security updates and related system data files on a consistent basis.
This is what you should do to check this:
Enter System Preferences
Choose the App Store preference
Put a tick to the following: Automatically check for updates, Install app updates, and, of course, install system data files and security updates.

Hit Check Now.
By doing this you will keep your Mac free from the majority of malicious software programs. But please do notice that this will not protect your Apple computer from all possible malware.
Moreover, if you hear such questions as, "Do Mac get viruses?", "Can we delete all viruses forever?" the answers are obvious: today, you cannot find such antivirus software that is capable to detect everything. Consider this: once the novel malware has been recently released and you have just downloaded and launched it, you have managed to do this only because Apple's databases could have been not updated yet. Hence, it is smart to check what you download from unknown sources.
The other interesting issue is that your Apple computer may not run any malware, but it might come across a more pernicious matter: it is likely to become the so-called "Typhoid Mary Windows viruses." In other words, the viruses on your Mac will not greatly affect you, but they are likely to bring a number of problems for any Windows users. Yep, you read this correctly. Simply check the following icon: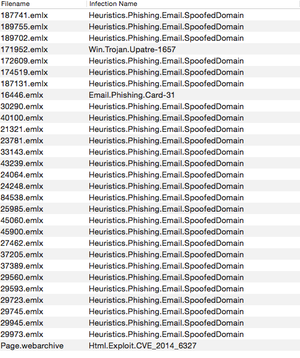 Can you guess what this is? Yep, that is a list of at least twenty-five potentially harmful programs for Mac. Please note that there is also a Windows virus there.
Thus, we do have to know how to get rid of virus on Mac and it is also advisable to make sure we keep our Apple computers from relaying Windows viruses to Windows users. Below we've prepared a wise solution, let's check it.
ClamXav.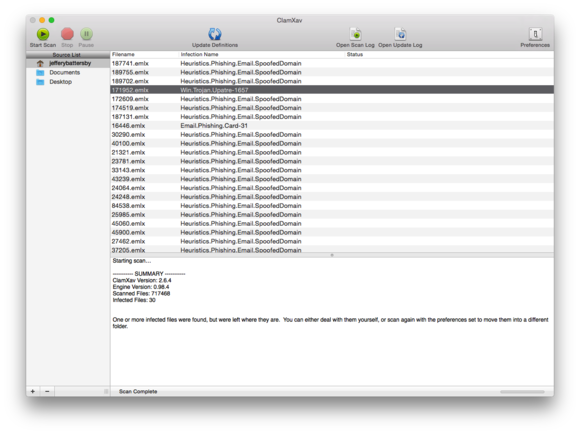 So, why exactly ClamXav? The answer is pretty obvious – this app does only one job and we have to admit that it does this job at very high level. It is neither too intrusive, nor overcomplicated, a perfect solution, I would say.  By the way, when you host your email via Apple's Server app, it's what Apple uses to scan all incoming mail for any possible viruses.
Being similar to AdWare Medic, ClamXav is donationware and it is really awesome. As usual, ClamXav can be downloaded from the Mac App Store or directly from the official ClamXav Website.
After downloading and launching this program, it is highly recommended setting its preferences ( by default, this program will only scan for all possible viruses, but please notice that it is not programmed to delete or quarantine them. Thus, you should definitely change these settings.)
Typically, ClamXav includes five configuration features:
General: It is used to set up alerts and, if needed, to scan for malware and phishing in all your email messages
Quarantine: It is used to determine where you want to quarantine risky documents
Exclude Files: It is used to select the types of the files that should not be scanned
Log Files: It is used to set whether or not the log files should be stored and viewed
Schedule: It is used to define the time for the latest virus definitions to be downloaded. Plus, you can set the time for regular scans to take place.
When the setup is complete, hit Start Scan. Yep, scanning may not be so fast, but after that you can be certain that your Apple computer is viruses free, or in other words, clean.
Therefore, your Mac can definitely be infected with malware; hence it does require regular virus scanning. That is why using a reputable Mac malware scanner app, which finds and blocks malware and other malicious emerging threats on Mac systems is essential.